N.M.O. (ES/FI)
11.05.18 — 23:10

Bâtiment H
Live – Anòmia, The Death of Rave, Where to Now?
N.M.O. is the project of North Sea drummer and producer Morten Joh and Mediterranean synthesis aficionado Rubén Patiño. The duo has existed for 5 years, but you may still recognize them from previous projects such as MoHa! (Morten) and EVOL (who Rubén is loosely connected to). N.M.O. is an ever-changing acronym that incorporates club music, performance, military drumming, absurdity and fitness. What they call 'Military Danceable Space Music and/or Fluxus Techno' is a unique blend of repetitive percussive patterns and synthetic sounds that combines with performative aspects for explosive and intense live shows.
Using self-built software, they have developed a hybrid machine/human set-up and use a playing technique that resembles choreography. They integrate computer-synthesized audio, external drum synthesizers, synchronized lighting and combine it with human absurdity, snare drum, kick and hi-hat playing. N.M.O. have played at many major international festivals—such as Sónar, CTM, Unsound and Mutek—as well as contemporary art museums, such as Barcelona's MACBA and Porto's Serralves, and have released critically acclaimed EPs on labels like Anòmia, The Death of Rave and Where to Now?, as well as the double 12? LP Nordic-Mediterranean Organization / Numerous Miscommunications Occur on Oscar Powell's Diagonal Records.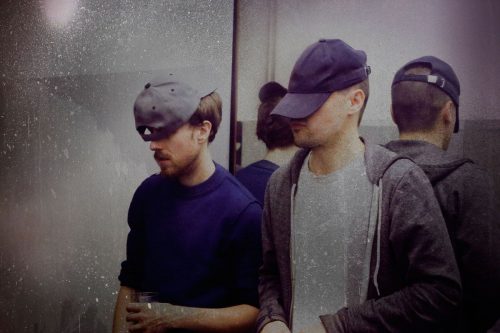 Credits: Michela Di Savino