AntiVolume IN/EXT
Lucas Paris (FR)
11.05.18 — 21:20

Bâtiment H
AntiVolume is an immersion in a synesthetic space of timbre and colour, a work in constant evolution. This version, IN/EXT, explores movements and dynamics between interior and exterior. In this series of performances, the audience is in the presence of a volatile and energetic sculpture, made of sound and light. Resulting from an algorithmic research, it is sculpted in realtime by the artist's improvisation. Three columns of light occupy the performance space. The audience is immersed in this work and perceives it as a physical and textural experience. 
This work is in constant evolution. In part improvised, each performance is unique and reflects the venue and the audience. Lucas Paris draws inspiration from the vast vocabulary of electronic music: noise, ambient, IDM, EDM… These references are reinterpreted through a strong musical character and personal fantasy. 
An emerging artist in digital arts and electronic music, Paris has built digital instruments for more than 10 years in the pursuit of sculpting and engineering intangible sound and light in real time. He studied digital music and digital instrument making at Université de Montréal. Pairing a deeply considered and expressive artistic approach with high-tech digital synthesis networks and modular instrument design, Lucas Paris creates multi-sensory, immersive and emotional new forms of audiovisual performance.
As a member of the projects Quadr and Betafeed, and with his personal projects Antivolume and Array, he performed at MUTEK MTL 2017/2016/MX 2017 and MUTEK ISEA Vancouver 2015, Akousma 2016, the BIAN 2014 and 2016, and at the TIES 2015. He has been in residence at Eastern Bloc Montreal in January 2015, at VYV corporation in January 2018, he is an invited artist in residency at Concordia University's Milieux Institute since September 2017, and is a member of the Perte de Signal artist center.
Credits: Lucas Paris
Credits: Lucas Paris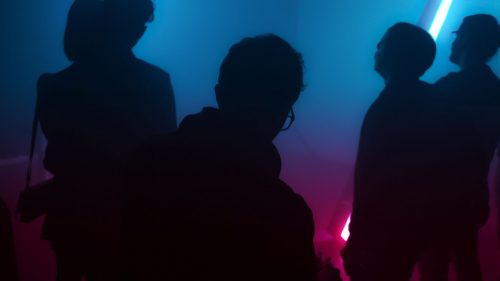 Credits: Lucas Paris
Credits: Lucas Paris